This week in Husker history
The week of Feb. 7-13, looking back in five-year intervals:
1911:
Nebraska and Missouri
re-establish
football relations after a nine-year break.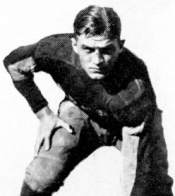 «
1926:
Husker star John "Choppy" Rhodes (pictured)
says no
to professional football. (Same for Ed Weir, but he would change his mind and end up playing and coaching for the Frankford Yellow Jackets.)
1931:
The impending departure of assistant coach Bernard "Bunny" Oakes triggers some
staff changes
.
1936:
The Lincoln Star's
Cy Sherman
names his top four players in Husker history: Johnny Bender, Ed Weir, Guy Chamberlin and John Westover.
1956:
New coach Pete Elliott asks for high school coaches' help in spotting
in-state talent
.
2011:
Bo Pelini selects
four new assistants
* and promotes
Tim Beck
* to offensive coordinator, although the changes are yet to be formally announced.
* Wayback Machine link – may take several seconds to load